Beauty Gold, Giusto Manetti Battiloro's gold for cosmetic use, is the most exclusive skincare product. It is so easy to use, and it is great for both the face and body, as well as for creative make-up that has true style.
Gold is used in the best spas and beauty salons in the world to increase the effectiveness of beauty treatments and to pamper the most discerning customers with an unforgettable experience.
Cosmetic gold leaf is also transformed into dust, glitter and golden petals to embellish and add a glow to creams, primers, hair and nail products.
Cosmetic gold is not new. But today it is so loved by movie stars, influencers and the creative directors of the most important fashion brands. Its use for beauty treatments has been documented for thousands of years in Egypt, China and Ancient Rome. Cleopatra was cosmetic gold's first testimonial "ante litteram" (before the term existed). The queen of Egypt was very attentive to her skincare routine. She would sleep with thin gold leaves on her face.


Quality parameters of Beauty Gold cosmetic gold:
100% Made in Italy, developed in Florence
Certified pure gold
100% Gold leaf pure 24kt gold
23Kt Dust, glitter, and petals with a small percentage of silver
100% natural
Copper-free
No allergens
Does not contain PEGs, silicone, parabens or microplastics
No animal testing
No reaction with sulphur or selenium. Can be used in combination with thermal treatments and anti-ageing creams
Traceable and responsible raw materials: they come exclusively from countries with no human rights violations for gold procurement.
FOR FACIAL AND BODY TREATMENTS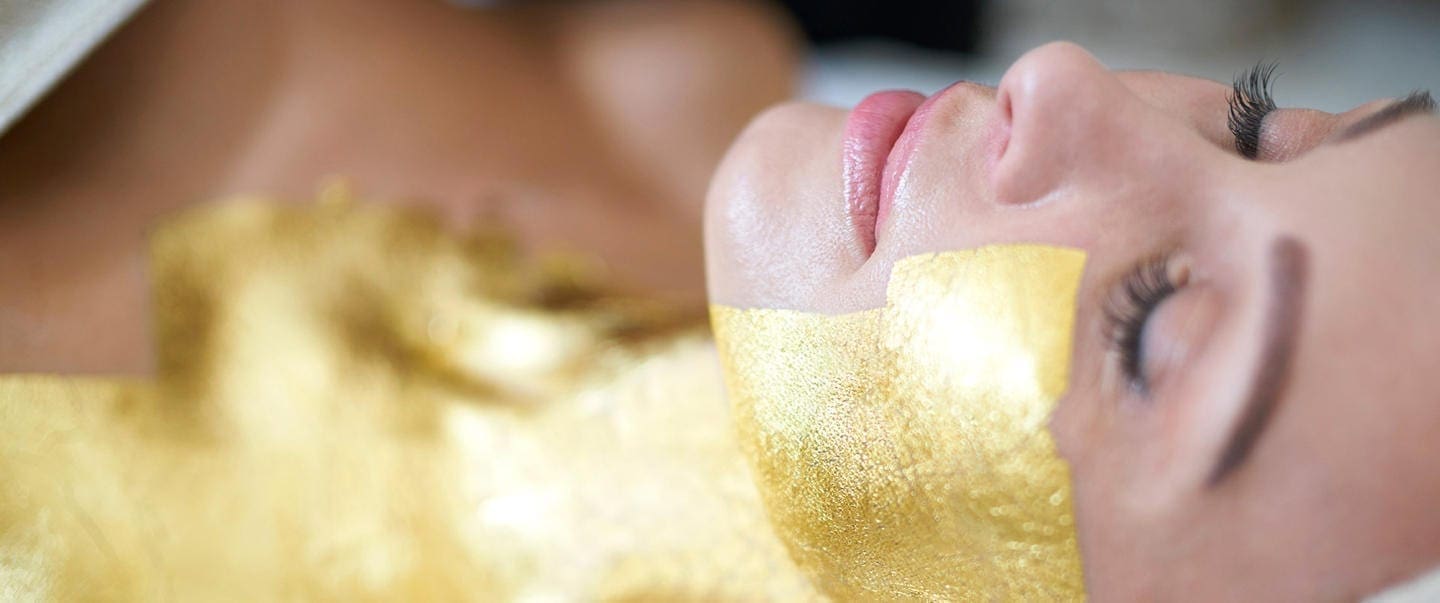 Cosmetic gold leaf enhances facial and body treatments. With its extraordinary properties, cosmetic gold optimises the yield and effectiveness of creams and serums. It acts as a barrier against the oxidation of active ingredients, and it facilitates rapid and complete penetration into the skin.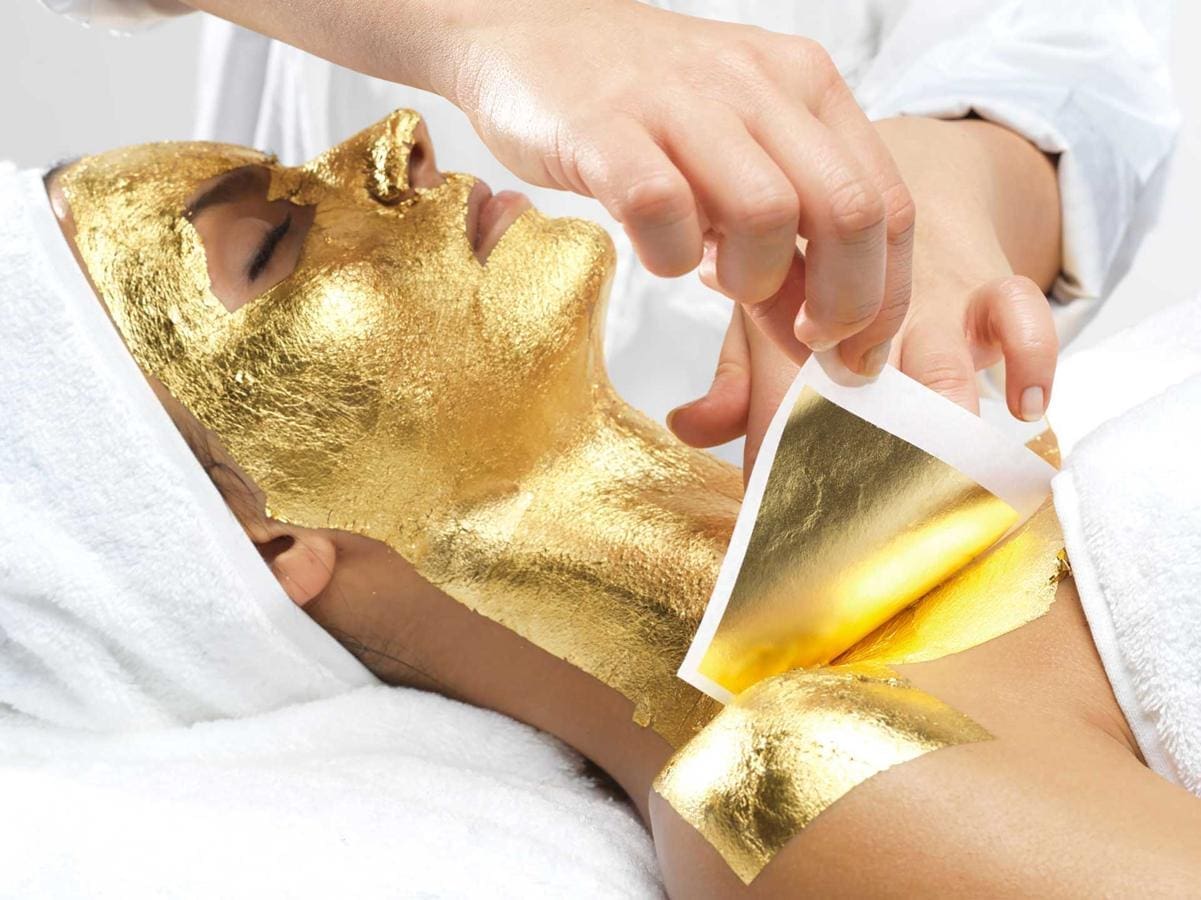 HOW TO USE COSMETIC GOLD
The gold leaf application ritual is as exclusive as it is simple. Here are the instructions:
After cleansing, apply a cream or oil to the skin
Cover the treated area with gold cosmetic leaves
Wait until completely absorbed
Remove the gold leaf with a light massage that activates a delicate exfoliating action
Thanks to the unique nature of this precious metal and its decomposition into micro-particles, this scrub cleans the skin deeply without irritating it. The results give off a magnificent shine. The micro-particles of gold that may remain on the face or body are the touch of shine that help prolong the pleasures of the treatments.
For beauty treatments, gold leaf can be used whole or cut into the desired size or shape.
In addition to the traditional booklets with square gold leaf, the Beauty Gold line also includes pre-cut gold facial masks and patches for the eyes.  For a complete facial, we recommend a booklet of 12 gold leaves for cosmetics 5×5 cm . For the decolletage, all that is needed is a booklet of 12 leaves 8×8 cm .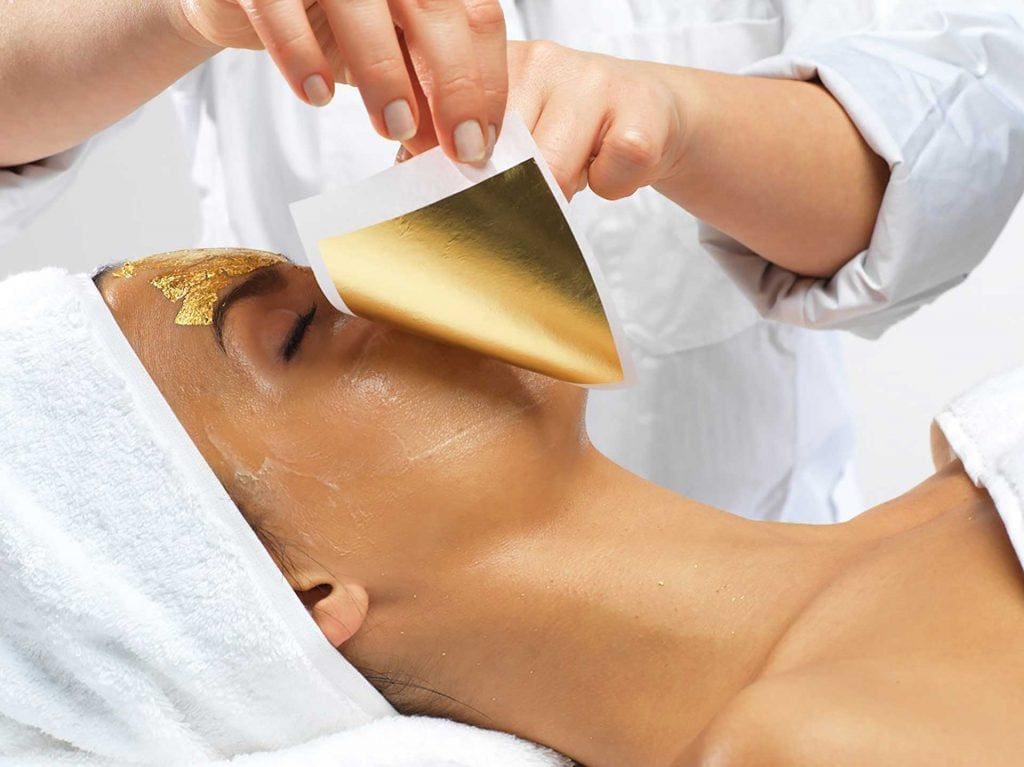 GOLD FOR MAKE-UP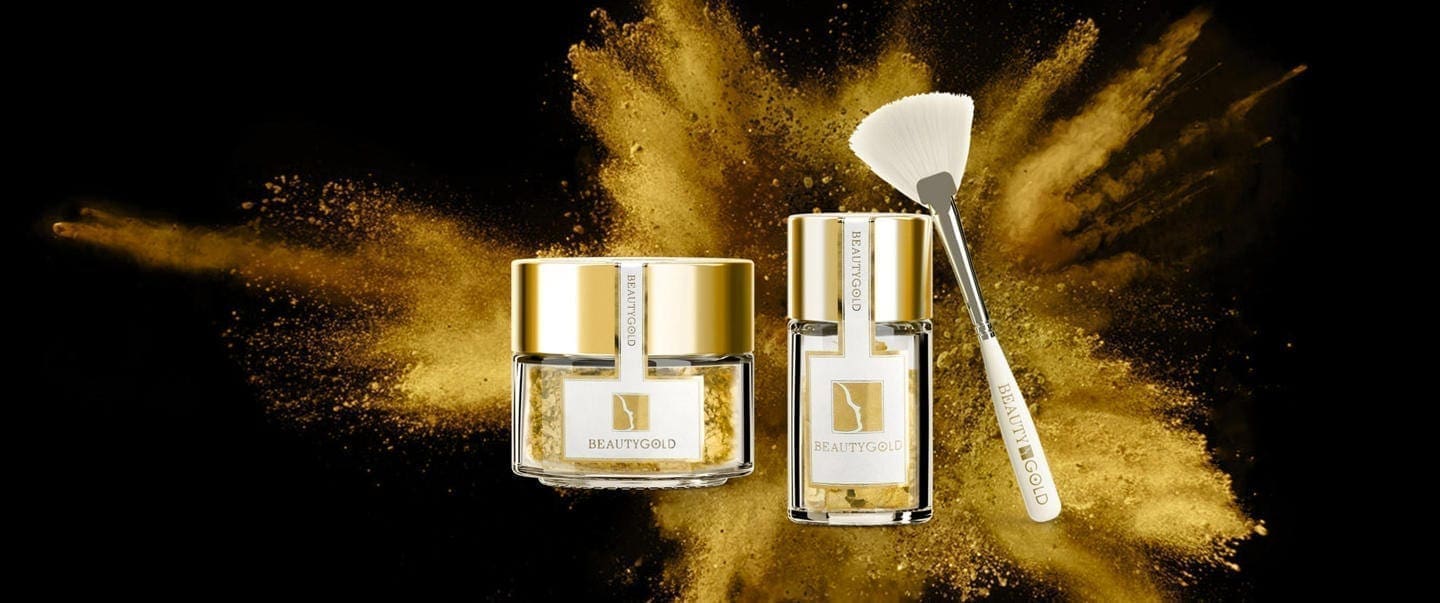 Beauty Gold cosmetic gold leaf make-up is adored by the most famous make-up artists in the world, and admired on the most prestigious red carpets and at high fashion shows.
It is the most exclusive way to make faces, bodies, nails and hair absolutely shine.
Dust , glitter , flakes, gold leaves and cosmetic silver turn make-up into an exclusive and unique beauty experience, with amazing visual results.
USE
Using cosmetic gold is simple. It only requires a bit of experience, the right amount of creativity and the willingness to experiment. For make-up on the face, simply prepare the skin with a good primer or foundation. Once the base is ready, use the brush for the powder or tweezers to arrange the glitter and petals where you would like them.
For luxurious hairstyles, simply pre-treat hair with hairspray or gel and use tweezers to apply petals and glitter. The special Gold Spray is particularly recommended for an all-over glow.

If you would like more tips, here's a tutorial on how to use cosmetic gold in Make Up .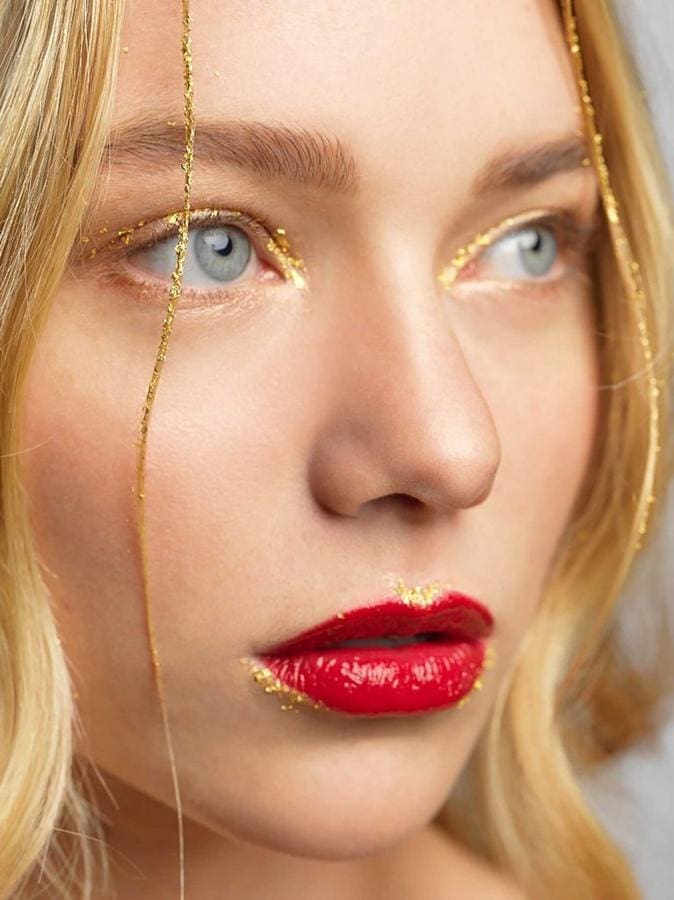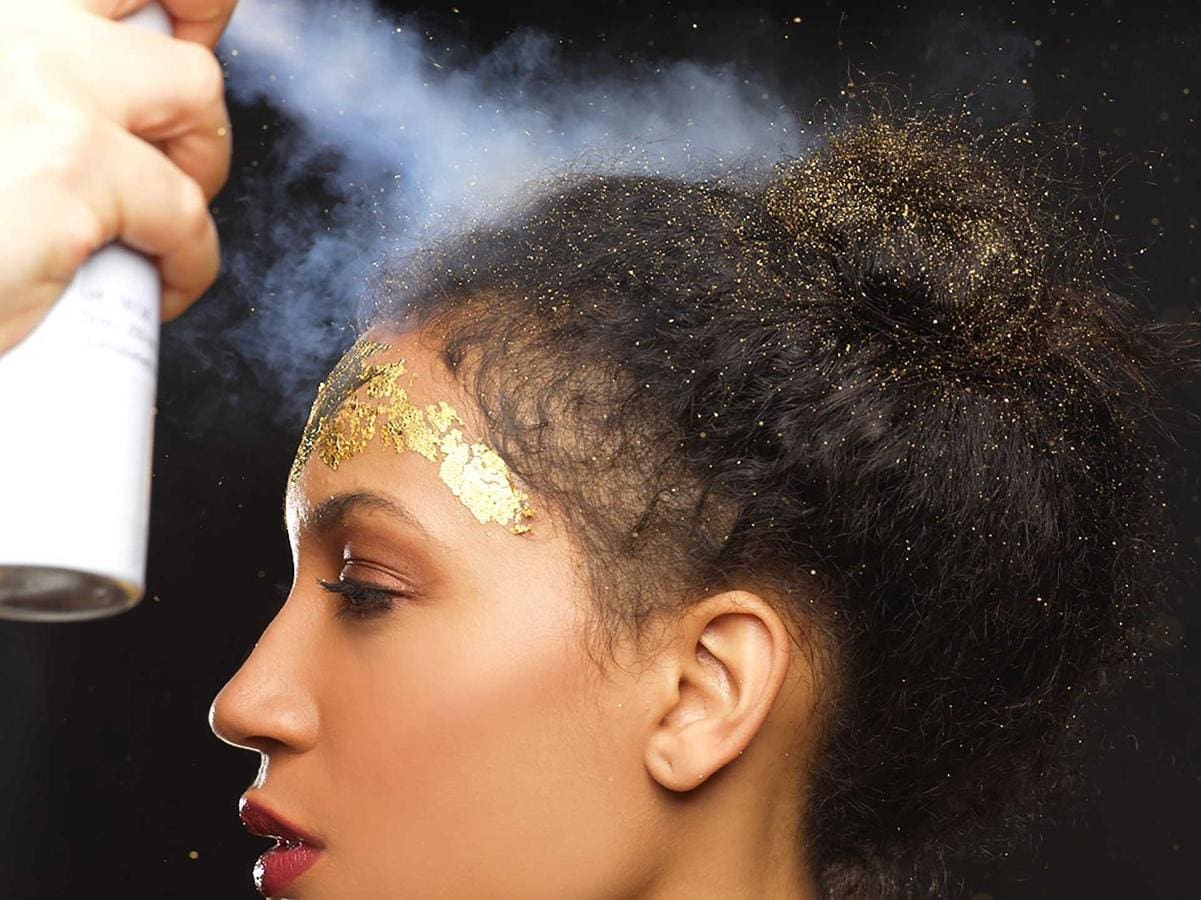 FOR COSMETICS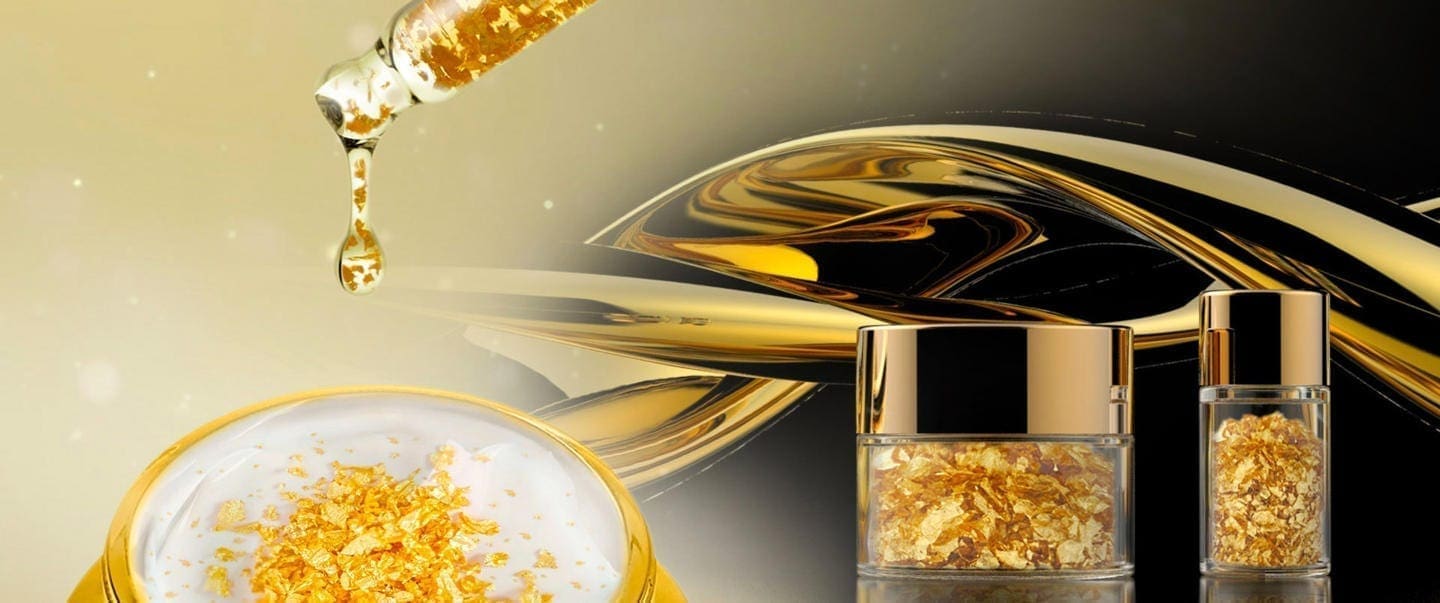 Manetti cosmetic gold leaf is used not only in salons and make-up, but also for exclusive industrial as well as artisanal skincare beauty products.
The Beauty Gold Business line makes cosmetic gold and silver available to manufacturers and retailers in large quantities. Versatility of use is guaranteed thanks to a wide range of available formats, each specifically designed for different treatments and application rituals.
The loose gold and silver powder is perfect for adding extraordinary radiance to lipsticks, eye and face make-up, gels, oils, creams, serums and perfumes, hair sprays and nail polishes.
In addition to personal home use, Beauty Gold products are available for:
Retail and distribution
Professional use for salons and spas
Industrial and artisan cosmetics and Make Up