"A small square placed inside a circle, rendered perfect by the harmony of the colours and the contrast between the compact surface of the rice and the gold leaf rippled by the heat": this is how the world renowned chef Gualtiero Marchesi described his famous "Saffron and gold risotto" in 1981. Ever since that day, he and his perfect dish have been credited with giving edible gold a important role to play in the Italian culinary tradition(*).
Check out the recipes of the extraordinary chefs who use Manetti edible gold
Today loved by chefs all around the world, edible gold is anything but a novelty in contemporary cuisine. In fact, it's been used for thousands of years. In ancient Mesopotamia, gold leaves were an exclusive privilege reserved for the tables of royalty; in ancient Egypt, gold dust was included in the dough used to make the pharaohs' bread, and in imperial Rome gold crumbs were sprinkled on sweets, like we do today with icing sugar(*).
The use of gold in the kitchen is also well documented in the feudal courts of Medieval Europe. According to Historian Bernardino Corio, the meal served at Violante Visconti's wedding to the King of England's son in 1368 consisted of fifty courses decorated with edible gold: pigs, hares, pikes, trout, quails, partridges, and even a whole calf, all covered with gold.
During the Renaissance, the brilliant allure of gold became a real infatuation, and wedding parties became so intent on impressing their guests that the Padua city council was forced to make it illegal to serve more than two courses decorated with gold at wedding banquets. The prohibition did not affect the nearby city of Venice, where, in January of 1521, oysters covered in gold leaf were served at a large party held at Palazzo Venier in honour of a Neapolitan prince. Some seventy years later, pheasants with feathers covered with gold droplets, and loaves of bread covered with leaves of gold and silver, were served at a large banquet in Rome, in honour of Duke William of Bavaria.
More recently, just a few years back the eccentric chef of the Honky Tonk restaurant in London, Chris Large, expanded his menu to include the "Glamburger", a beef and venison burger made with Russian caviar, Iranian saffron, and gold leaf flakes (price: £1100)(*).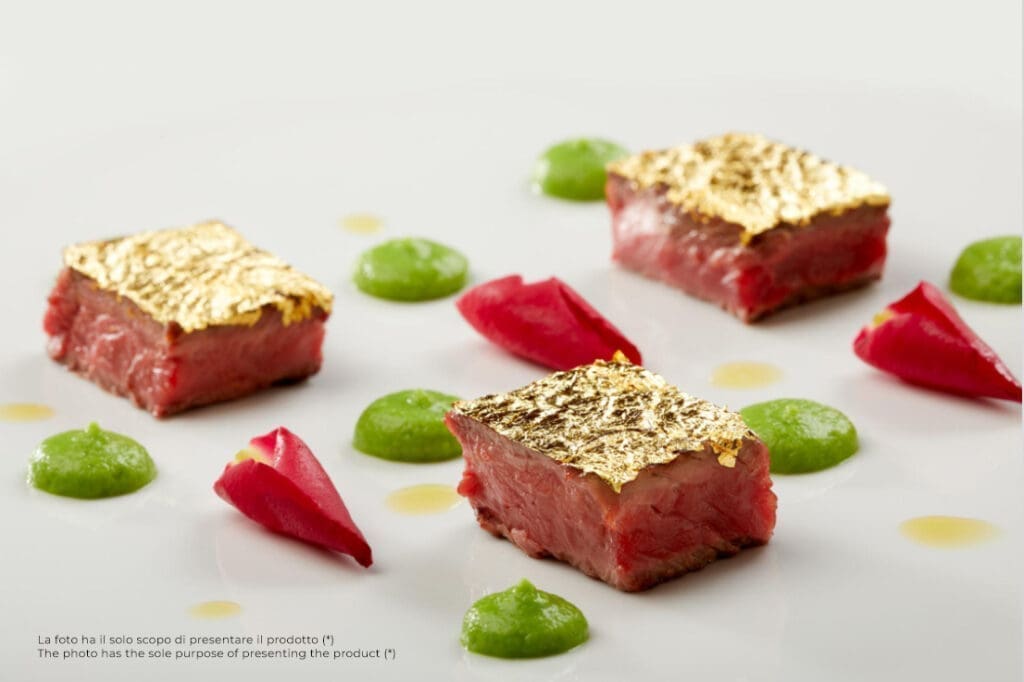 But aside from such extravagances, edible gold has now become a luxury that's well within everyone's reach: in order to render a plate or a glass of champagne unique and unforgettable, all it takes is a touch of gold dust, or a pinch of pure gold crumbs, the cost of which is comparable to that of any number of fine spices, like saffron.
In addition to its extraordinary aesthetic appeal, edible gold has also been popular throughout the centuries because it was believed to have important healing properties. Sixteenth-century physician and alchemist Paracelsus believed that, when properly treated and diluted, gold and silver promoted and regulated the cardio-circulatory functions of the body, and many of his colleagues made extensive use of gold in the preparation of medicines, considering it a true cure for all ailments.
Today we know that this precious metal is actually biologically inert, and has no effect on our bodies' functions. Nevertheless, it continues to win over everybody with its brilliance and splendour, and the light and impalpable magic that it brings to every dish.
Put your creativity to the test
(*) Photo and recipes have the only purpose of presenting the product. In EU countries, gold and silver can be used as food colorings only for external coating of confectionary products, decorations of chocolate products and in liqueurs. For other countries, check the legislation in force there.